By Dharmendra
Sometimes in an emergency, you just can't reach your phone. That's why using Alexa and setting up the smart assistant to trigger life alerts is useful for fall detection.  When you …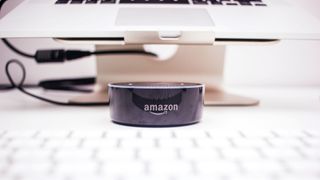 Sometimes in an emergency, you just can't reach your phone. That's why using Alexa and setting up the smart assistant to trigger life alerts is useful for fall detection. 
When you adjust your settings, you can make it so that all you need to do is shout "Alexa, ask my buddy to send help" to communicate to your emergency contacts that you need urgent attention. In this article we'll be covering how to use your Amazon Alexa as a medical alert system. 
All you need is the Alexa Echo and a cell phone or smartwatch to download the SOS My Family app. Then you can use your Amazon Echo medical alert.
Like using your Apple watch as a medical alert device, Amazon's Alexa was not built to be the best medical alert system in the industry but it can certainly help you with the basics. 
More than just a friendly voice, Amazon's voice assistant Alexa is reported to help save lives by Amazon customers and Amazon employees around the world. One Amazon employee recounts how Alexa helped save her life after fatal bee stings:  
"Thankfully my husband called 911 from his work phone, and he simultaneously dropped in on our Echo Show device from the Alexa app on his personal cellphone to remotely communicate with our son. 
With Alexa, he told our son to go to the neighbor's house, and immediately get someone to assist. Via our Echo Show's camera, my husband could visually see our son and neighbor come running back into the house, approaching me on the kitchen floor."
The Amazon Echo is a hands-free, voice-controlled speaker. Alexa will play music, tell you the weather, time, and much more. The Echo can trigger a life alert using the My SOS Family app. But first, let's start with how to set up your Echo speaker:
1. Download and install the Alexa app on your smartwatch or cell phone. 
You'll find the app on the Google Play Store for an android device, or the Apple Store.