By Dharmendra
Flying drones these days is incredibly easy and fun, despite the common misconception that they're difficult use. Drone technology has evolved at lightening speed in recent years, mainly thanks to DJI …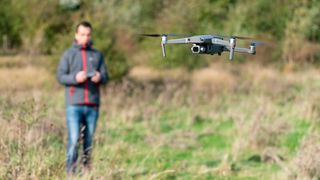 Flying drones these days is incredibly easy and fun, despite the common misconception that they're difficult use. Drone technology has evolved at lightening speed in recent years, mainly thanks to DJI drones, and it's now possible for beginners to fly one with relative ease.
That said, there are a few important steps that we go always through to make the whole experience go as smoothly as possible. One of the most important aspects of flying drones is familiarizing yourself with their flight controls, so you know how to control the aircraft, but this is just the tip of the iceberg. 
It's also imperative that you learn about the rules and regulations surrounding the use of drones in your country to ensure that you remain safe and legal at all times. In the UK, you should familiarize yourself with the Drone Code before making your first flight, while those in the US can learn about relevant rules and regulations at the FAA's DroneZone.
All filled in on the latest drone laws? It's time to plan your drone flight and head out to grab some impressive sky shots. 
As well as picking a position for safe landing and take-off while at your chosen spot, the first thing you must do before making a flight is make sure that it's safe and legal to fly. The best app for this is in the UK is NATS Drone Assist (now called Drone Assist Uk, for iOS and Android), which allows you to select your current location using GPS or search for a future location using the map. In the US, the B4UFLY Drone Airspace Safety app (for iOS and Android) does a similar job. 
The apps show restricted airspace where you can't fly without permission in red over the map, while areas where you need to take care are displayed in yellow. They also alert users to NOTAMs (notices to airmen), which are temporary warnings and rules as well as ground hazards and much more.
Most drones shouldn't be flown in high winds or rain, so it's important to use a weather app to ensure that the weather is favorable for safe flight. You can use any weather app, but UAV Forecast (available for iOS and Android ) is designed specifically for drone pilots and provides detailed weather information to help you decide whether it's safe to fly.
UAV Forecast also provides similar information to NATS Drone Assist, detailing where you can and can and can't fly, but this is much more limited so it's worth using both apps when planning flights. And best of all, they're both free for Android and iOS users.
When you first unbox your new drone, you'll need to attach propellors, charge batteries, install a memory card and link the controller to the aircraft. The companion drone app for your smartphone, which for DJI drones is the DJI Fly app (for iOS and Android), will guide you through the process.
Once this is completed, you'll need to perform a pre-flight check of battery levels, propellers and the airframe to check the level of charge and for damage every time you fly. Don't forget to take the online safety test and get your Flyer and Operator IDs (if needed) before your first flight. In the UK, you'll also need to attach your Operator ID to your drone because failure to do so could result in a hefty fine.