By Dharmendra
Learning how to clean a mattress is important for keeping your sleeping space fresh and hygienic. Even the best mattresses need regular care to stay in good shape, and to keep …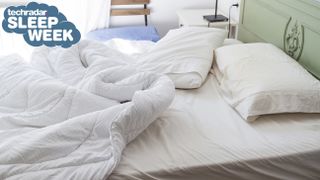 Learning how to clean a mattress is important for keeping your sleeping space fresh and hygienic. Even the best mattresses need regular care to stay in good shape, and to keep them free from smells, sweat, dead skin and dust mites. 
You should aim to clean your mattress at least twice a year for general maintenance, but if you spill something on it, tackle that straight away to avoid it causing deep-staining or damage.
If have allergies, you'll benefit the most from keeping your mattress fresh as regular cleaning kills off allergy-triggering dust mites. A decent mattress protector is your friend here too, while a mattress topper adds an extra layer of (comfy) protection.
Here we look at how to clean a mattress properly, including how to tackle spills, smells and stains. But if yours has seen better days, you're in the right time of the year to upgrade as there are some good Black Friday mattress deals arriving early.
You should aim to deep clean your mattress every six months or so. Regular care and cleaning keeps it clear of dust, dirt and dead skin cells – all the things that provide a feast for allergy-triggering dust mites to snack on.
Other reasons to clean your mattress regularly include the accumulation of sweat and body oils, which can stain your mattress and cause it to smell. Using a mattress protector is a great way to keep your mattress clean and fresh for longer, as they can be removed and machine washed much more regularly.
Before you clean your mattress, read the care instructions (usually found on the mattress label or on the brand's website). We say this because they may be specific things that you should or shouldn't be doing for your specific mattress. 
For instance, if you have a memory foam bed and need to clean up a spill, don't use too much water because mildew can grown in a foam mattress that's left wet for too long. Let's now go through the basics of how to clean a mattress…
Even if you use a mattress topper or mattress protector, and change and wash your bed sheets regularly, you should still aim to deep clean your mattress twice a year. This will keep it feeling fresher, smelling nicer and lasting longer. Set a reminder to do this essential chore every six months, to make it part of your household routine. Here's how to deep clean a mattress easily:
If your current mattress can't be cleaned, is covered in stains and has signs of sagging, then it's time to get something new. For a good memory foam mattress that's covered by a Forever Warranty, read our round-up of the best Nectar Black Friday sales. For luxury sleep for less, check out our guide to the best Saatva Black Friday mattress sales and deals.