By Dharmendra
If you're planning to watch the launch of NASA's James Web Space Telescope, you're not alone. The Christmas Eve event is unquestionably the most exciting event of the year for NASA …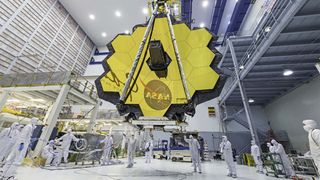 If you're planning to watch the launch of NASA's James Web Space Telescope, you're not alone. The Christmas Eve event is unquestionably the most exciting event of the year for NASA — and it's also unquestionably the most fraught with anxiety. You can join us in all of our live coverage with our James Webb Space Telescope live blog right now!
It will take 29 days to fully deploy the James Webb Space Telescope, sometimes called JWST, a period that NASA has described as "29 days on the edge." Others, ourselves included, have called it "the month from hell," as the delicate operation to deploy the next generation space telescope unfolds. 
Any number of things could go wrong during the 29-day deployment, and given the nature of the operation, should something physically happen to the James Webb Space Telescope, there will be no way to fix it and salvage the $10 billion telescope. The stakes for the James Webb Space Telescope launch deployment couldn't be higher.
This week's launch is the kick off to the operation, and we'll be covering the event live as it happens. If you're wondering how to follow along, we've pulled it all together in one place so you can watch the launch along with us.
The launch window opens at 7:20AM EST on Friday, December 25, and the rocket carrying the precious cargo will launch from the Guiana Space Center in Kourou, French Guiana. If the weather cooperates and there aren't any preflight issues, the James Webb Space Telescope should take off shortly after 7:20AM.
Launch windows are only time frames when a launch is safe to take place, so the actual launch itself can be any time during that window, though if conditions are good, launches typically happen as soon as the window opens. Why wait, after all?
NASA will stream the James Webb Space Telescope launch on NASA Live, and the space agency will also stream on YouTube, Facebook, Twitter, and Twitch. We've embedded the livestream feed below to make it super easy to follow along.
Coverage of the launch is scheduled to start at 3AM EST on December 25 with fueling updates, while the main launch coverage should kick off at 6AM EST.
The James Webb Space Telescope is the successor to the Hubble Space Telescope, which launched in 1990. As fine a space telescope as it is, the Hubble is 30-year old tech at this point, and there are some important wavelengths of light that it is incapable of imaging, namely the middle and lower end of the infrared spectrum.
This is critically important for seeing the oldest galaxies and stars, as their incredible age has put them so far from us that the light from is pushed deep into the infrared spectrum. Infrared light is also able to penetrate dust clouds and nebula in ways that visible and ultraviolet light cannot.