By Dharmendra
Although far from a new technology, you might have heard the term 'pixel binning' popping up with increasing frequency in relation to a number of recently-announced smartphones – like the Samsung …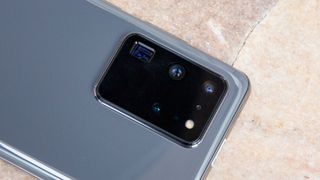 Although far from a new technology, you might have heard the term 'pixel binning' popping up with increasing frequency in relation to a number of recently-announced smartphones – like the Samsung Galaxy S21 Ultra – and wondered what it means. You might be especially concerned by what it means for the quality of your smartphone images. 
First, we probably need a quick reminder of exactly what a pixel is in the first place. Put simply, the pixel, which is short for 'picture element', is the smallest unit of a digital image, often seen as the little dots that are visible when you look closely at a screen.
The word 'pixel' is also often used to describe the individual light-capturing cavities found on camera sensors, although these are technically called 'photosites'. However, for the sake of simplicity in this 'pixel binning' explainer, we'll use 'pixel' to describe these too. 
The larger a sensor's pixels (or photosites), the greater their light-gathering ability. But you also need a lot of pixels if you want to render detail finely. It's also worth saying that not all pixels are created equally – the size of a photosite is called its 'pixel pitch', and this is measured in microns. The larger the number, the bigger it is. 
Smartphone camera pixels tend to vary between quite small (0.8 microns) to fairly large (1.8 microns). But they still pale in comparison to those found on a mirrorless camera or DSLR. Pixels found in full-frame camera sensors can be as large as 8.4 microns, which is why they're generally much better for low-light shooting than a smartphone can muster – particularly when you examine an image closely.
The problem that smartphones have is that the physical size of their sensor is necessarily small, as it needs to be housed in a relatively small device. Over the years, sensor sizes inside smartphones have increased somewhat, but you're never going to cram a DSLR-sized sensor into a slim smartphone.
That means that you've got the problem of trying to cram lots of pixels into a small area. Small pixels are bad news for low light shooting, but, equally, reducing the number of pixels means that you won't get those lovely sharp images when the light is good. There are a number of ways to get around it from a hardware standpoint, but they all have trade-offs. 
You could reduce the number of pixels on the sensor, to ensure each pixel is as large as possible. But then you'll end up with fairly low-resolution images. You could increase the number of pixels, but also increase the size of the sensor. That's not physically possible without making smartphones even bigger or wider. 
Although some of today's smartphones are pretty massive, if they start getting thicker as well, it seems unlikely they'll be all that popular. Finally, you could use a large number of pixels on a small sensor, with the hope that most users will mainly be shooting in good light. 
Alternatively, a compromise that tries to get the best of all worlds is a process known as pixel binning. But how does it work?