By Dharmendra
Your computer is supposed to be a tool to help you get things done. This might mean getting on with work, playing games, watching movies, writing emails, or just browsing the …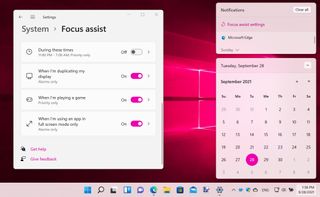 Your computer is supposed to be a tool to help you get things done. This might mean getting on with work, playing games, watching movies, writing emails, or just browsing the web, but there are all manner of distractions that can pull you away from what you're trying to do. 
If you're sick of being pestered by notifications when you're trying to do something else, you could benefit from Windows 11's Focus assist feature. 
This is a simple but powerful function of Windows 11 that enables you to configure rules that determine when notifications about new emails, messages and so on are muted. We show you how to use this option to your advantage so you can focus on what you need to do.
There are several ways in which to access Focus assist and start configuring the settings you would like to use. The first option is to open 'Settings' via the Start menu and head to the 'System' section. 
Within this section, you will then find 'Focus assist' on the right-hand side nestled between Notifications and Power & battery. 
Alternatively, you can open up 'Quick Settings' by clicking the network / volume / power icon in the taskbar.  
Now right-click the Focus assist icon and select Go to Settings. Another option is to click the clock to display the notifications panel and then click the 'Focus assist settings' link.
In the Focus assist section at the top, you can enable the notification-quieting feature and choose the type of notification should be allowed through. 
'Off' is the default setting and this means that all notifications will be displayed, while 'Alarms only' will ensure that no notifications are shown apart from alarms – which are probably things you don't want to miss. 
You can also enable the 'Priority only' option which disables all notifications apart from those that you add to a whitelist, and you will need to manually configure this. When Focus assist is activated, you will see a moon icon by the taskbar clock.