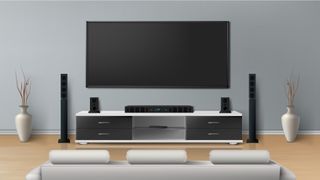 A brilliant home theater setup can transform your Saturday nights, letting you experience the magic of the movies from the comfort of your own couch. 
Once the preserve of the very wealthy, a good home cinema setup once required careful calibration, tuning, and crafting to really come together. But, thanks to the improvements in sound and picture quality as soundbars, TVs, and speakers, it's easier than ever to achieve without the help from an expensive custom installer. 
What's more, innovations in wireless technology and multiroom audio mean that building a home cinema setup doesn't always involve having cables snaking around your living room and cluttering your home. 
Home theater setups can be as big or small as you want, from dedicated cinema rooms furnished with projectors and soundproofing, to a TV hooked up to a soundbar. Whatever kind of home cinema setup you have – or want – there are a few things you can do to make sure it really sings.
Before we get into our tips and tricks, it's important to make sure you have the basic components that make a home cinema setup. 
First of all, you'll need a 4K HDR TV with all the modern specs. Aside from smaller models, all new TVs will come with at least 4K resolution and some form of HDR capability, if not support for dynamic HDR formats like Dolby Vision and HDR10+. If you're really serious about your picture quality, you might want to look into 8K TVs, but be warned that widespread access to true 8K content is still pretty limited. 
In any case, look for a TV in your budget with a screen size that won't dominate your home, and a smart TV platform that will allow you to access your favorite streaming services. We like Google TV that's available on modern Sony TVs, webOS on LG TVs and Tizen on Samsung smart TVs, but Roku TV, Android TV, and My Home Screen are good, too.
If you don't want to rely on getting your content from your smart TV's inbuilt apps, you'll need another source, like a 4K Blu-ray player, games console or a 4K streaming device like the Chromecast with Google TV or Nvidia Shield. 
Not sure whether to invest in an OLED TV? If you're after a high-end 55-inch TV, go for an OLED panel, which will offer more realistic blacks, quick refresh rates, and superior contrast compared to cheaper LCD models. Larger OLED TVs can ramp up in price quickly, so if you're after something bigger – say, a 75-inch or 85-inch TV – you might want to go for a more affordable QLED or LED-LCD TV like the Samsung Q80A or Sony X90J to save some money.
While TVs are getting better all the time, flatscreens don't offer the best audio quality – there simply isn't enough room for them to house good speakers. So, you'll also need some speakers to make your movie soundtracks sound as convincing as possible.