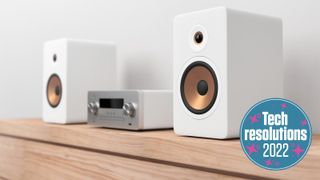 Building the perfect hi-fi system is the dream of audiophiles everywhere – and it's not as unattainable as you might think. 
These days, building the best hi-fi system for your needs doesn't have to cost the world, or fill your entire home with annoying cables and bulky hardware; there are lots of options when it comes to choosing the best speakers, amplifiers, turntables, and music streamers for the space you have. 
Many of these devices also come with modern conveniences like wireless connectivity, built-in voice assistants, and multi-room capabilities, which means your hi-fi system can be as modern (or as old school) as your heart desires.
However, before you go on a shopping spree, it's important to understand all the different components that will make up your new hi-fi system, as well as having a rough idea of the features you want and a budget you'd like to stick to. 
That's why we've put together this handy guide on everything you need to know about building the hi-fi system you've been dreaming of ever since you bought your first record. 
Just looking for some quick hot buys? Before we go any further check out the products below – all of which could make fantastic additions to your new hi-fi system.
There are three basic components that make up a hi-fi system: a source, amplification, and speakers. 
Your source could be anything from a music streaming service played on your smartphone to a turntable – you could even use a CD player if you still have one. 
An amplifier takes the weak electrical signal generated by your source, and powers it up enough to drive your speakers. It's worth noting that many sources come with integrated amplifiers – even your smartphone contains a small amplifier, though using a separate DAC (Digital-to-Analogue Converter) improves the sound quality dramatically. 
Lastly, there are the speakers. There's lots of choice when it comes to this component, whether you're looking for clever wireless speakers, powerful floor-standing speakers, or space-saving bookshelf speakers.