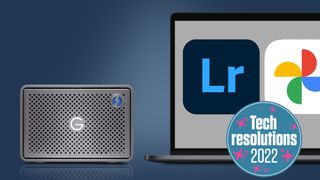 It's the job that photographers and videographers put off the most: creating a secure backup system for all their photos and videos. But whether you're a pro with a bulging Adobe Lightroom library or a hobbyist who relies on Google Photos, creating a photo backup is a New Year's resolution that's well worth making in 2022 –  and our in-depth guide is here to show you how to do it.
There's a long list of things that can go wrong with your photo and video files: fire, theft, accidental damage and deletion, to name a few. But these will all become worries of the past if you follow what's widely considered the gold standard for all kinds of visual creator: the 3-2-1 backup strategy.
Alongside an easy-to-follow guide to this foolproof backup strategy, we're also going to explain everything you need to know about the different hard-drive types available for large backups. No fluff, just the information creatives need to make informed decisions about the solution that best meets their needs, whether they mainly use Adobe Lightroom or Google Photos.
To help you make the best buying decisions possible, we've picked out some of the best large capacity, RAID and network-attached hard-drive options, along with our favorite cloud backup services available. This will help you effortlessly pick the best option for you, whether you're on a tight budget or looking for the ultimate in professional performance. So, sit back, relax, and start the New Year with a photo backup strategy that'll change your photography workflow for the better.
The idea behind the 3-2-1 backup strategy is pretty simple. It states that you should have three copies of your images, videos and data, with two kept on local hard drives (for example, your computer and an external hard drive), and a third that's kept off-site, usually with a cloud storage provider. 
In a nutshell, this means that if your computer hard drive fails, you still have your second local backup and a cloud backup. And in the case of fire or a theft where you lose your computer equipment, you still have your data backed up to the cloud where it can be restored from.
Also, no cloud storage provider is immune to outages – so while cloud backups are an essential part of the 3-2-1 strategy, you'll still have your local backup available should your provider suffer an outage. Whether you're a working professional or a keen amateur photographer, the 3-2-1 strategy is a no-brainer because it means that you're highly unlikely to ever lose access to your images and data. 
Backing up your raw and editing files is obvious, but you'll need to backup your Adobe Lightroom catalogue too, because this is where all of your edits are saved. And if you use Google Photos as your main image storage, this can also be combined into the 3-2-1 strategy by keeping a local backup on an external hard drive. We've highlighted some of the best examples of those in our 'best local photo backups' section below, but if you already have one you can skip down to the 'How to back up Google Photos to a hard drive' section using the menu on the left.
RAID (Redundant Array of Independent Disks) is a system that can be found in some hard drives and NAS (Network Attached Storage) drives. It uses two or more HDDs or SSDs to provide performance increases when accessing data, or to provide redundancy in the case of disk failure. 
The main three RAID configurations that apply to photographers and videographers are RAID 0, RAID 1 and JBOD (or 'Just a Bunch of Disks'). RAID 0 is where data is written across multiple disk drives, which increases performance. But since the data is written across multiple drives, there's no redundancy if one of the drives fail.