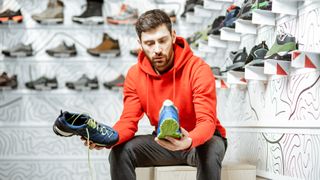 Whether you're starting out running for the first time or you're looking for a running shoe that's a better fit for those long Sunday marathon training runs, making sure you're putting the right kind of shoes on your feet is arguably the most important investment you're going to make.
That way you'll make sure you've got a shoe (or shoes) best suited to your running style, the type of running you plan to do in them and crucially, you get something that makes that time on your feet as comfortable and enjoyable as possible.
While your initial train of thought might be to reach for the priciest shoe in the running shoe store or filter by priciest on the first online retailer you come across, arm yourself with this knowledge to make sure you really pick out the best running shoe for you.
This is possibly the most important information you can be armed with to get a running shoe that's the best fit for you. Don't just spend big and pick up a pair of Nike Vaporflys or Alphaflys just because all of the elite runners that smash out PBs in them. We all run differently and understanding a bit more about how you run can better inform the shoe you should lace up.
What we're mainly talking about here is your running gait. In plainest terms, this refers to the way your feet move when you run. That gait is broken down into three main types of what's known as pronation. This refers to the way your foot rolls inward when it lands back on the ground. There's neutral (or normal pronation), underpronation and overpronation.
With that better understanding of the degree of pronation that occurs when you run, you can better identify the type of shoe that offers the best kind of support for that running gait.
To save yourself digging into that gait data yourself, the easiest thing to do is to head into a running shop and do that running gait analysis, usually for free, to understand more about your running style and then better understand what kind of shoe to look for.
By doing the above, you can begin to get a better sense on how running shoe types are  classified. You might see a shoe referred to as a supportive or stability shoe, or has minimal or maximum cushioning. There's two key types of running shoes to get to grips with.
A stability or supportive shoe is one and that's the type that's one designed for someone that overpronates in their running gait. It uses design elements and a shoe structure to help reduce that pronation and excessive movement in the feet and ankle areas to combat the tendency to overpronate. 
Neutral running shoes is the other key type of shoe. These tend to go lighter in construction compared to stability shoes as they don't need to offer those additional supportive elements. They usually offer more cushioning in the heel to cater for that more neutral running gait as well.