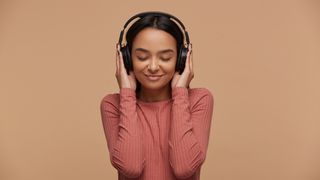 Are you looking to buy a new pair of headphones or earbuds? These days, there are so many different models, brands, and styles to pick from, that making a choice over which are the best headphones for your needs can prove tricky.
Not only that, but once you've decided upon the kind of headphones you want, you then need to think about how much you should spend, too. Is it worth considering those super-cheap in-ear headphones from Amazon? How much is too much when it comes to audiophile over-ear cans?
We've tested a lot of different headphones over the years, and we're here to help you make the right choice. So, whether you're on the hunt for a pair of modern true wireless earbuds, or a pair of wired headphones to use with your record player, we're here to give you all the info so you can make the right choice for your needs.
Let's start with the basics. If you're looking to buy a new pair of headphones, the easiest way to get started is to consider the form factor you like best: in-ear headphones, on-ear headphones, or over-ear headphones. 
In-ear headphones – also known as earbuds or earphones – are those you're most likely to see people wearing while out and about. This is because their compact build makes them ideal for use while traveling or commuting, and also because they're often cheaper than on-ear and over-ear headphones. 
Fitting inside the opening of your ear canal, in-ear headphones are usually super-comfortable to wear for long periods of time, and can create a good seal against the outside world, blocking some of the noise and making your music sound better. 
While they come with much smaller drivers than on-ear and over-ear headphones, earphones can sound incredible if you're willing to spend the money on a pair that support hi-res audio and are made from premium materials. Saying that, if you mainly listen to podcasts and don't care about getting the very best in sound quality, a pair of budget earbuds could be a savvy purchase. 
On-ear headphones feature cushions that sit on – rather than over – your ears, and feature a headband connecting each earcup. They're usually more compact than over-ear headphones, which makes them ideal if you want to use them while traveling – or if you don't like the feel of earbuds in your ears. 
On-ear headphones are also good for people who find that over-ear headphones make their ears uncomfortably warm. The ear cushions don't envelop the entire ear, generating less heat than over-ear cans. 
Over-ear headphones (also known as supra-aural headphones) are probably the best choice if you're looking for the ultimate in audio immersion. Such headphones feature large drivers that deliver a powerful sound, alongside earcup design that can block out the sound of the world around you.