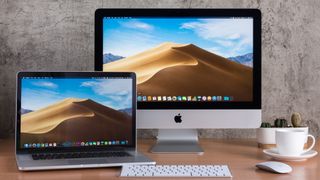 One of the biggest draws of using a Mac is the fact that they're seen as much better protected than Windows devices – some argue that antivirus software is completely surplus to requirements.
However, while that's true to an extent, Apple PCs aren't immune, and that perceived safety also often leads users to take more risks and feel 'invincible'.
Whether your Mac's running suspiciously slowly or you've noticed strange tasks running in the background, using a malware removal tool to check and clean your Mac is the single best thing you can do to protect your device and your data.
Here, we'll be running down all the steps you should take if you're thinking about cleaning up malware on your Mac, and how to remedy the situation should you discover something malicious.
Before undertaking any sort of large task, like updating your OS or cleaning up malware, you should back up all of your essential files and data. It's advice that's often given and often ignored, but in this situation it's a crucial part of the process. 
You may well have a regular Time Machine back up set up, so once you know that your irreplaceable files are safe and secure on an external drive or in the cloud, you're ready to get cleaning. If you're not sure how to back up or what to use, check out our guide to the best backup software.
There's a huge range of malware removal software on the market, and while plenty can do the job, it's still a big choice to make.
Our top-rated tool is Malwarebytes, and you can get yourself a copy here. A big bonus is that apart from being supremely effective at detecting and destroying malware, new users get 14 days free of the full premium version. That includes on-demand scanning and well as always-on protection.
In this guide we're going to be focusing on the steps necessary for using Malwarebytes, so we recommend you grab yourself that 14-day trial follow along with our guide. However, the steps should be fairly similar if you've already got yourself a malware removal tool, or fancy using a different provider.
Head to the website, and click Free Download. Once you've done that, the PKG file will begin to download. On Chrome it'll show up bottom left, or on Safari, you'll see it in the download drop-down top right. Click on the downloaded file to begin the installation process.