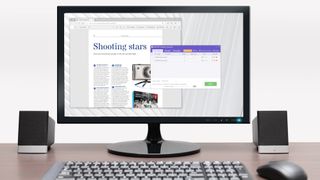 Let us show you how to combine PDF files effortlessly. PDF files are now a vital part of our daily lives, not just in the workplace, with important personal and legal documents often coming in PDF format. So, knowing how to combine them will definitely come in handy someday.
If you have a bunch of work or personal PDF documents that you'd like to put in a single file, you'll be happy to know that figuring out how to combine PDF files isn't reserved for the computer savvy. There are also many ways to do so, all of them pretty easy and straightforward to do. For Windows users, numerous websites offer doing so for free, as do many third-party free PDF editors and free PDF readers. Meanwhile, macOS users already have Apple's own easy and free tool that they've likely already utilized for other things.
Of course, we'll also walk you through the step-by-step process of combining PDF files. Take a look at our guide below, and you'll be doing so like a pro.
macOS users have it easy. If you need to combine PDF files into a single PDF document, you can simply use the Preview app, which come pre-installed when you purchase your Mac computer. Even better, you mostly only need to drag and drop files, so the process is fast and effortless. 
Before you start, make sure that you have all the files you'd like to combine in one folder to make the merging process all the more seamless.
Step 1: Open the Finder folder where your files are stored and make a duplicate of the file you want as your first page.
You want to use a duplicate to make the changes in, so that you're preserving the original file, in case you make a mistake or need it for something else in the future. To create a duplicate, simply two-finger click on the file and select Duplicate in the dropdown menu.
Step 2: Double-click on the duplicate file to open it in Preview. 
Make sure that the thumbnail sidebar is visible. If it isn't, go to View > Thumbnails or press Option+Cmd+2. If your file isn't opening in Preview at default, you can two-finger click on that file then go to Open with > Preview.
Step 3: Add PDF, JPG, PNG and other additional files to Preview by dragging and dropping them into thumbnails sidebar.