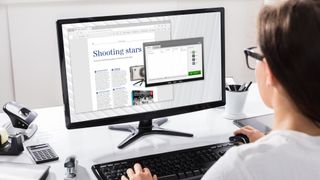 Learning how to convert PDF to JPG doesn't have to be a frustrating experience. And, while there are a number of applications and websites out there that can do it for you, it's hard to figure out which ones you can really trust. 
And you probably don't want to spend a lot of time finding one by trial and error, or worrying about how accurate, reliable, or virus-free they are. That's something we can do for you, as we've done with the best free PDF editors  – if you need to adjust that PDF before converting it.
In fact, there are quite a few easy ways to convert PDF to JPG without having to put any unknown apps from "unidentified" developers, as Apple calls them, on your computer. If you're using an Apple computer, macOS already provides its PDF and image viewer that can handle this task.
Windows users do need to take a few extra steps but there are a couple of apps you can grab from the Microsoft Store that will protect you from any inappropriate app activities, and we'll discuss one of them here. 
Thanks to macOS's Preview, you don't need to download another app to convert your PDF files to JPG. With the Preview app, you can convert your files to several different formats, including PNG, TIFF and, of course, JPG.
If Preview does prove a little too good to be true for your taste, you can also utilize the Adobe's Acrobat DC, which allows you to convert PDF files to basically any format.
Method 1: Using Preview
The Preview app may look like a simple viewer, but it offers other capabilities as well – from markup editing to exporting a previewed file to other image formats. Here's how you can convert PDF to JPG on this surprisingly nifty app. Just bear in mind that, if your PDF has several pages, you'll have to convert one page at a time.
Step 1: Open your PDF file in preview.
Step 2: Select the page you want to convert to JPG, and go to File > Export…