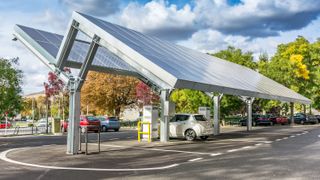 Finding a public charging point is a bit like finding a petrol station, but a little harder as there are fewer around. 
Numbers are increasing though. In the USA, there are around 41,400 points, according to the Department of Energy, and fewer than 5,000 of those are fast chargers. 
With a huge population, not to mention all that extra surface area, the US will need millions of chargers.
A recent report from the UK Competition and Markets Authority (PDF link) found that while there are around 25,000 public charging points across the UK today, that number will need to swell to almost half a million as electric cars become more popular. 
The chargers of the future don't help us today, though. If you need to charge your electric car, you'll need to find one, so here's how.
Outside of major cities and away from the coasts, EV charging points can be a little far apart in the US, but at least they're not hydrogen fuel stations, which exist only in California. 
The majority of EV charging takes place outside people's homes, but there are public chargers if you know where to look. A map on the Alternative Fuels Data Center website shows exactly where they are, but you'll likely find smartphone apps such as Plugshare, Chargehub or Nextcharge will be more convenient to use on the move. 
Many public charging stations in the States offer free charging, but can also be low voltage and take a long time to charge your car. The trade-off may be worth it if you're not in a hurry. 
Chargers are standardizing around the combo connector that can offer fast charging, however, but some legacy units may have different connections – check in an app beforehand that you have a compatible adapter. 
Payment comes via smartphone app or credit card – you'll need an app and an account for the brand of charger you want to use, but these are generally free.