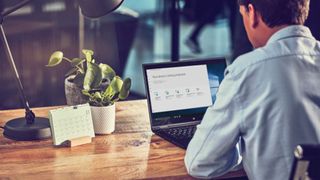 If you've ever spent any time using today's best Linux distros then you'll be familiar with the idea of a package manager. And when you switch over to using Windows 10 you probably miss that package manager very much.
There have been options on Windows 10 for a while now, like the superb third-party solution, Chocolatey. But now, Microsoft has its own, known as Windows Package Manager.
It recently hit v1.0 at Build 2021 after a full year in preview. It isn't yet shipping with Windows but it's ready to put to work and doesn't take a lot to get it installed on your machine. Here's what you need to know.
Windows Package Manager is a command-line tool for managing software that can be used on Windows 10 through PowerShell or Command Prompt. The implementation is very similar to a Linux package manager, though naturally, as it's on Windows there are differences.
Windows Package Manager doesn't actually host any packages itself. Instead, its users create manifests which get added to that a central repository, and those manifests are then enacted to fetch software from its regular home on the web.
That could be Github, it could be a software developer's website, it could even be the Microsoft Store. One of the strengths of Windows Package Manager is how simple it is to create a manifest to install a piece of software.
Of course, it isn't just about installing things on a PC. Over the course of the preview period, the feature list grew significantly. As it hits v1.0 it's now a very viable proposition to use in managing software on either your own PC or a number of remote machines if you're working in the enterprise.
If you were a previous user of Windows Package Manager during the preview phase, you don't have to do anything special to get v1.0. It's still delivered in the same way, so assuming you downloaded any updates to the App Installer in the Microsoft Store or you're on a Windows 10 insider build you should be good to go. You can double-check by typing 'winget –info' into the terminal.
For newcomers, there is now a more streamlined approach to installing Windows Package Manager. In the blog post announcing v1.0 there is a direct link, but you can also just head to the Github page and get it from there. It's worth dropping by Github anyway, as there's a ton of useful information there.
Grab the latest version on the releases page by downloading the '.appxbundle' file. Once downloaded, simply open it like any Windows executable, and the 'App Installer' built into Windows 10 will do the rest.