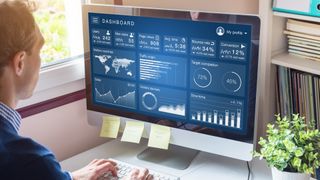 We all want to get our site to the top of Google. But that's only half the story – what happens when people click through to your site? Do they hang around and check out what you have to offer – or quickly move on to the next result? 
Obviously, we want the former to happen, so how can we make sure it does? When visitors find nothing of interest on your site at first glance and leave immediately, this is known as a bounce. A site with a high bounce rate from good quality traffic sources is an indicator that the website isn't performing up to visitors' expectations. 
Reducing your website's bounce rate is a great first step in improving its overall performance and conversion rate. First, you need to analyze the bounce rates of the different traffic sources. Focus your efforts on improving the bounce rates of the highest converting traffic sources, such as:  
Ignore the bounce rate from unqualified sources, such as:  
How you design your landing pages can make a difference to your bounce rate. Take the example of Real Gap, which provides gap year and traveling ideas in over 35 countries for those youngsters wishing to take a year off before, during or after university. The website uses specially designed landing pages for its pay-per-click (PPC) accounts. The PPC page has a strong call to action, whereas the SEO page just contains general gap year information. 
Not surprisingly, the bounce rate for the PPC page is far lower than for the organic page: 18.24 percent for the former compared with 25.44 percent for the latter. It's a clear demonstration of how the design of the page people land on influences the bounce rate. So what's the secret to designing a page with a low bounce rate? Here are some helpful tips.
How do you know what's working and what isn't in terms of keeping visitors on your site? 
Answer: you don't. So assume nothing, and test everything. 
Thanks to Google's Content Experiments (in Analytics), we can create, test and monitor the performance of landing pages. The purpose of testing your landing pages is to reduce bounce rates and increase conversion rates. Setting up an A/B split test on Google Content Experiments is very easy and free. Here's a basic overview of the steps involved: 
Finally, here are some golden rules to remember when you're designing and testing landing pages: