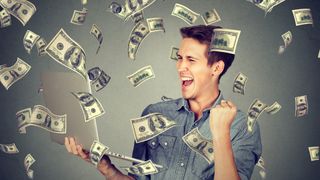 Let's be positive. Forget the credit crunch and the age of austerity – we're going to help you make some money. Don't worry if you're no Alan Sugar; thanks to the internet and your PC, all you need is a good idea. 
If you don't even have one of those, you can transform your spare time into cash – legally. This isn't a guide to selling old vinyl on eBay or flogging knackered paperbacks on Amazon. We've done our homework, trawled the web and put together a list of new, exciting and innovative ways in which technology can help you make money. We'll explore topics such as human intelligence tasks – jobs that computers and software can't do, but are essential to the functioning of an electronic business. 
All you need do is sign up for a service, set aside a few hours and do the jobs you're assigned. It might not be glamorous work, but if you have a PC and some time to spare, it's a great way of earning some extra cash. If you're feeling brave, we'll also explore how to start your own electronic business in a thoroughly modern way. 
Back in the pre-wired age, the banks held all the cards. If you wanted to start a business, you had to convince your bank manager that your great idea was profitable. Today you can forget the big four. If you have an ambition to launch an amazing venture, all you need to do is convince a community of lenders. If they're happy with your plan, the cash will turn up. The equation works the other way, too. If you have some savings and fancy being a venture capitalist, read on. 
Before we get stuck into making our fortunes, a word of warning: keep your wits about you. The web is groaning with scams and scammers. We'll look at a few classic examples, but it pays to be aware of potential cons and fraud. The internet is a great place to make cash – just remember the old adage: if it sounds too good to be true, it probably is. You're putting your livelihood on the line starting a new business. Either hit these schemes prepared to lose, or take a small risk.
Peer-to-peer lending, or social banking, uses the principle of crowdsourcing. Let's say you want to borrow a couple of grand to start an online T-shirt business. Sign up to Zopa and you can get a loan at a very attractive rate of interest, plus a flat fee. 
The money comes from a network of lenders, not a bank, and it pays to be a lender, too. At Zopa, for example, the average generate projected return is between 2.0% – 5.3%, which is actually a lot better than most short-term savings accounts. 
What if a borrower can't pay back the money? So far, Zopa has done pretty well on that front, achieving a net default rate of 2.5 percent and Zopa Plus 3.5 percent in 2020. But your investment doesn't go to one person – it's seeded throughout the community. If one person defaults, it'll have little impact on your return as a lender. 
Zopa is the frontrunner in this area, but other sites offer a similar service. You may get a better return from Funding Circle, for example. The main difference for borrowers is that there's no flat fee. Instead, a portion of the loan is paid to the service. Funding Circle prefers business customers, while Zopa is open to anyone who has a good credit rating. 
You can get a better return if you're willing to take a higher risk. That's how it works at FundingKnight. Borrowers post loan requests and you can choose who you want to lend money to. You put in a bid for that loan, setting your own interest rate. The return on investments averages at 10.8 percent, but although all borrowers are screened, it's somewhat riskier than lending to the crowd. If a borrower defaults, a debt collector may be called in to pursue your investment.