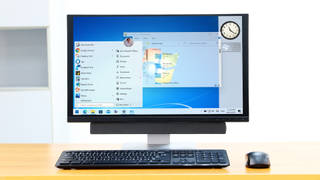 Windows 11 not only brought a great new selection of features, tools and apps, but also a completely new look.
The redesign introduced by Microsoft is not to everyone's tastes though. Some people find they yearn for the days of Windows 7 and the completely different appearance they was in place all those years ago. 
In this tutorial we will show you how to use a selection of free and low-cost utilities, as well as tools and options built into Windows itself, to transform the look of Windows 11 so it is much more like Windows 7. This will give you the bets of both worlds – a modern, secure operating system, and a retro look.
1. Perhaps the most obvious change to Windows 11 is the repositioning of the Start button and other apps to the middle of the taskbar. Thankfully, Microsoft has made it easy to move it back to the left hand side of the screen for people who prefer things the way they used to be.
Right-click an empty section of the taskbar and select Taskbar settings, then look for the Taskbar behaviours section. Click the drop-down menu labelled Taskbar alignment, and select the Left option. The Start button and all of the other buttons in the taskbar will all be aligned to the left.
2. Moving the Start button is one small win, but you'll still see the Windows 11 Start menu when you click it. By installing StartAllBack, however, you can very closely mimic the look and feel of Windows 7 – the full version of the app costs $4.99, but there is a free trial available as well.
After downloading and installing the app, select the Remastered 7 option in the Welcome section. This will reinstate the Windows 7 Start menu and taskbar instantly, but you can customise things further by working your way through the Start Menu, Taskbar, Explorer and Advanced sections of the app.
3. In the Start Menu section you can choose which shortcuts can be displayed in the menu, as well as opting to add fly-out menus for many items. In the Taskbar section, you can customise the appearance of the Start button and other elements of the taskbar.
You can combine elements of Windows 11 and 7 by deselecting the Use enhanced classic jumplists to retain the more modern menu when you right-click on taskbar button. There are further options in the Explorer section including the Classic context menu setting that lets you choose between old and new style right-click menus throughout Windows 11.
4. The move away from the Control Panel has been underway for some time now, with Microsoft encouraging you to use the Settings app whenever possible. While this makes sense a lot of the time, you may well yearn for the days of the Control Panel.