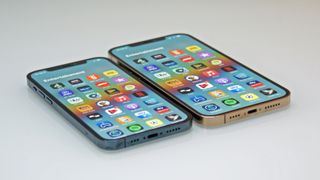 Phone companies have done near-ridiculous things with phone charging in 2021. OnePlus's affordable Nord 2 5G gets from flat to full in around 30 minutes. Xiaomi's 120W Mi 10 Ultra gets to around 25% in just three minutes. 
Apple is not one of these companies. Even the iPhone 12 Pro Max has relatively slow charging. Ensuring you get the most out of the tech on offer is all the more important. 
Why hasn't Apple followed the trend? It seems to treat battery charging much as it has the battery life of iPads. 50% in half an hour (using the right charger) has been the standard since 2017's iPhone 8, and it seems to think that is good enough. 
While that's no longer really a gold standard speed in 2021, it's fast enough for pleasant real-world use. We are also fans of the battery life improvements made in phones like the iPhone 11 and iPhone 12, over previous base-level models. We'll give it a pass, for now. 
There's also a practical reason to stay away from ultra-fast charging. It generates more heat, which can lead to battery damage, potentially shortening the useful life of your phone. 
Is Apple sensible or a stick-in-the-mud? We'll leave that to you, but here are some tips on how to get the fastest charging out of your iPhone. Most of these tips apply to iPhone models from 2017 and newer. That includes the iPhone 8 and above.
Long-term Apple fans may have plenty of older Apple chargers lying about, or those made for an Apple Watch. You should not use these to charge your iPhone. 
While perfectly safe, these are basic 5V, 1A adapters. Low current, low voltage leaves them with power output to your iPhone of just 5W, and they draw 5.6-6.1W from your outlet according to our power meter. 
These are extremely slow, and should not be used unless it's as a bedside charger that will be used overnight.
There's one half-decent legacy Apple adapter, the 12W one that shipped with some older iPads. While this will not match Apple's latest power plug for speed, it actually does not do a bad job in real-world testing.