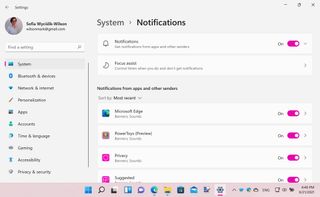 You almost certainly have a selection of apps installed on your computer, and many of these use notifications to let you know about things. 
A news app can alert you to the latest headlines, an email app will let you know when you have new mail, and your chat app will inform you of new messages that need your attention. All of this, as well as messages from Windows itself, can be taken care of by Notifications in Windows 11. 
Here we show you how to manage, configure and get the most from notifications so you are always up to date with the information you need from your apps and operating system but not overwhelmed.
Windows 11 displays notifications in the lower right-hand corner of the screen, just about the clock in the Taskbar – and there is no configuration you need to do to get things working. 
You'll know when you receive a new notification as it will simply pop into view to get your attention. The type of notification you receive will depend on the action your take. 
Some notifications contain everything you need to know, while others – such as those informing about a new email – will need to be clicked to take you to the app that generated the message so you can find out more.
When a notification appears, you do not have to deal with it straight away. You can simply ignore it until you have time for it, or you can click the 'x' button to the upper right of the popup. 
As new notifications come through, a counter appears to the right of the clock and shows you how many you have to see. If you click the counter or the Taskbar clock, you will see a list of all of the notifications that have come through as well as the calendar.
For anyone who is a fan of keyboard shortcuts, there is another very handy way to access the list of notifications you have received.
Just press the Windows key and N at the same time and the notification panel will slide into view. You can then interact with the notifications in whatever way you need to, or just ignore them after you've glanced at them.