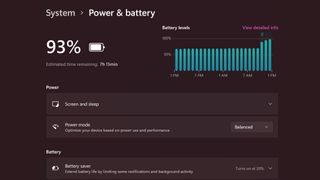 Microsoft has always given Windows users a good deal of control over how their computer uses power, and this is something that continues with Windows 11. 
While managing power consumption may be something that you most readily associate with laptops and a desire to maximize battery life, power options can also play an important role for desktop users.
Desktop user may not have to worry about how long a battery is going to last, but Windows 11's power option remains important. 
As well as making it possible to reduce your electricity bill by using Sleep mode to reduce power consumption after a period of inactivity, the setting you have in place can also play an important role in security.
What you see when you're managing power settings will depend on whether you're using a laptop or a desktop PC. 
Here we take a look at the options that are available in both scenarios. We'll start by looking at what you'll see on a desktop computer as there are far fewer options to consider. 
One difference you'll notice straight away is that on a desktop system, you manage things through the 'Power' section of Settings while on a laptop is it called 'Power & battery'. Let's take a look and see what options are available.
Open Settings either by right clicking the Start button and selecting 'Settings' from the context menu, or using the Win + I keyboard shortcut. 
Click the 'System' link to the left of the window and then move to the 'Power' section. You may well find that Windows 11 offers you some tips at the top of this section – you are free to click the links contains in these advisory boxes to accept the recommendations, click the X to the right to dismiss them, or you can opt to simply ignore them.
The limited number of options you can configure for a desktop PC can be seen if you expand the 'Screen and sleep' section. Here you will find two drop down menus, the first of which is labelled 'When plugged in, turn off my screen after'.