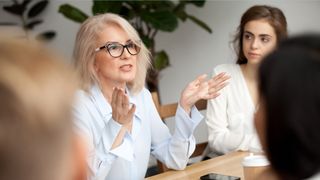 Time is money, as all business owners know. Workflow, time management and internal administration – if you can make these processes more efficient, not only will you boost your bottom line, but it will also free up your time to focus more on the creative side of business life. 
Even if every business could benefit from improving its efficiency – you just need to know how you've already added a project manager to the team, as head of your company you need to nail the basics of good organization. So take a step back and set some processes in place – your clients, bank balance and sanity will all thank you. Read on for efficiency enlightenment.
Your business needs a platform for creativity while still ensuring the work gets done. Perfect project management – the idea might put a damper on your enthusiasm, but being organized is the key to turning out great work, on time, every time. 
Your business needs to be on top of deadlines and demands, budgets and billing, files and feedback – not to mention any staff you might bring in along the way. So what's the secret? 
Whether they're manual or digital, you need some efficient systems and processes in place that will ensure your projects are approached logically. If you undertake work for external clients, you need to keep on top of jobs or risk being swamped by your workload.
Analyze the brief:
Once you've won a project, analyze the brief and work out what you need to do to get it done. How much research do you need to do into the market your client operates in, its brand, business, competitors and so forth? Plan time for research and inspiration, sketching out ideas and refining them.
Get the details right:
Be as specific as possible with establishing the brief and what you're offering for the fee. This can take time but often saves a lot of pain in the long run. The more you can open up about your processes, the more the client will see the value in what you do. 
Log the conversation:
Make notes while talking to clients and keep a document logging feedback. After you've had a meeting or phone call, send an email outlining what you agreed. If anything has been misunderstood, the client can clarify it. 
Share the load:
If you're running a business with other people, split the project management workload. Each of you could take ownership of one project at a time and see it through to completion. Agree on an overall system, though. If each person's system is different, it leads to confusion.
Get others going first:
If you need to assign parts of your project to others, brief them and get them started before you sit down to work yourself. You won't feel there's something hanging over you, and it also prevents Bottlenecks and last minute 'why isn't this done?' bedlam.