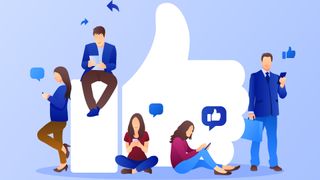 Do you want to increase online sales, build brand awareness and promote your products? From leading brands that boost TV campaigns with Facebook engagement, to growing businesses that host creative online offers to keep fans excited, any business – big or small – can use Facebook as a marketing tool. 
Social media platforms such as Facebook bridge the gap between businesses and consumers, improving communication between them and leaving brands with a better understanding of their audience. Whether you're a freelance illustrator, successful independent restaurant or a globally- recognized brand, Facebook should be at the top of your marketing strategy.
Facebook groups and pages each have their own strengths. Groups are ideal for intimate communication in communities – to discuss a topic, and to share ideas and opinions – while pages are designed to help businesses, organizations and professionals create an authentic presence online to represent their values. Therefore, creating a Facebook page for your brand or business is the first step towards getting yourself noticed on the social network.
Suggesting your page to friends, putting up signs in your bricks-and-mortar store, adding a Like button to your website, and including links to your page wherever possible will all contribute to page growth. However, the most noticeable change in Likes will be as a result of the content you post on your page. Let's look at ways to optimize your Facebook marketing effort by identifying your audience, creating compelling content, and analyzing your strategy.
Having a clear understanding of your audience will help you tailor your Facebook posts to suit its interests. Most brands have customer profiles outlined through authorized data collection, but as a growing business or freelancer, taking time to identify your ideal customer will help you to find more of them.
Create a description of your ideal customer. Decide on age, gender, personality, occupation, hobbies, spending habits, likes and dislikes.
Locate your online audience. Which websites interest them? What are they reading? What are they likely to search for online?
Determine their end goals. What is it about your product or service that they like? 
Write a more detailed outline of each identifiable customer. Give them each a name and backstory. Write a short day-in-the-life-of paragraph about each one that you can refer to. These are just a few questions to get you started. There are hundreds of customer profiling templates online that can help you build a more comprehensive portrait. Piecing together a clear picture of who you're 'talking' to online will help determine the tone for each post and what customers are likely to respond to. 
A Facebook content strategy is a daily outline of page updates scheduled for the week or month ahead which include things you want to promote or share. For example, you know next week you'll publish a blog post about an offer available on your website's shop, which will start on Saturday and end on the following Monday.