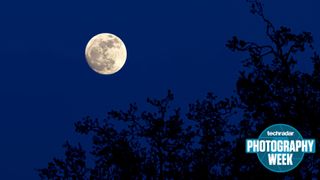 Are you ready to capture a rare 'Blue Moon' with two giant planets, then your own home galaxy? 
Both astrophotography and night-scape photography have boomed in recent years as camera sensors have gotten more sensitive and better at producing noise-free long exposure images using high ISOs. The pandemic has also caused a spike in interest in the night sky, with sales of telescopes skyrocketing.  
There's something interesting to photograph in the sky every night, but the weekend of August 21-22, in particular, will have photographers out in force if skies are clear. The following week or so just happens to be the start of one of the best 10-night periods to capture our Milky Way galaxy arcing across the sky, too.
Here's everything you need to know about when and how to photograph a 'Blue Moon' on its own, alongside Saturn and Jupiter, as well as the Milky Way in the coming nights and weeks.
When: Dusk on Saturday August 21 and Sunday August 22, 2021
Where to look: Southeast at dusk, southwest at dawn
At precisely 12:02 UTC on Sunday August 22 (that's 8:02am EDT / 1:02pm BST / 10.02pm AEST), the Moon will be totally lit by the Sun. There's a full Moon every 29 days, but that means, occasionally, there are four in the same season. That happens this summer, with the third (after June's 'Strawberry Moon' and July's 'Buck Moon') traditionally called a 'Blue Moon.' 
So, it won't actually be blue? No! That would require a large volcano to have recently exploded and the atmosphere to be filled with fine ash – as in 1883 – but if you catch it at precisely the right time, it will instead be a beautiful muted orange. 
That time is, of course, the moment of moonrise, and this month there are two chances to catch it; dusk on Saturday August 21 and again on Sunday August 22. Check for the exact moonrise times for your location, but count on it being just after sunset on Saturday and about half an hour after sunset on Sunday.  
Get into position before time and set-up a tripod and camera in manual mode wearing a 70-300mm telephoto lens. That way, you'll get the full Moon rising into shot behind, above or between trees, buildings or rooftops. Lookout for orangey moonlight becoming visible on the horizon just before it appears, or use the PhotoPills app's AR mode overlay to see exactly where it will rise in your environment.