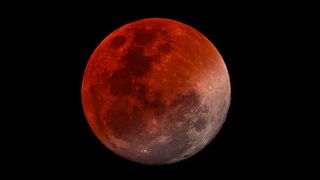 The super blood moon, otherwise known as the super flower blood moon, will be gracing our skies tomorrow – so it's a good time to hatch a photographic plan to make sure you get a money shot of this pretty rare event.
This celestial event will be a special one for a couple of reasons. Firstly, this is the last 'super moon' of 2021. It'll be taking place on May 26 because it'll be passing just 222,116 miles from Earth – in galactic terms, mere cigarette paper's width – which means it'll look larger than usual.
But the reason the moon will also be turning a ghostly red (hence 'blood moon') is because tomorrow's full moon will coincide with a total lunar eclipse. In other words, it's a bit of an astrophotography jackpot. An eclipse happens when the Earth sits almost perfectly between the Sun and the Moon, blocking direct sunlight from reaching the moon and refracting its light through our atmosphere.
With the moon so close and also glowing a shade of red – depending on where you are in the world – you'll be wanting to snap a decent picture or two. But how? Luckily, we've drawn up a battle-plan to help you do just that, whether you're using a camera or your phone. Here's how to nail Operation Blood Moon.
You hopefully already know what a full moon is – that's when the Moon sits exactly opposite the Sun, reflecting the maximum possible amount of light, and making for an almost cartoonish, perfectly round satellite.
A super moon is when the moon is at its perigee – in other words, when it makes its closest approach to Earth, which means it appears larger in the sky.
Super moons are pretty impressive in their own right, but this one will be about 7% bigger than average. That might not sound like much, but it promises to look pretty cool.
Add that to the rouge of the lunar eclipse, though, and Moon nerds – and the rest of us – are in for something pretty special on May 26. Well, depending on where you live…
Exactly where the Moon will look its biggest and reddest is heavily dependent on where you are on this planet.
If you're hoping to see any part of the lunar eclipse, the UK is the last place you want to be – North, Central and South America are all good bets, Hawaii, huge chunks of Australia (and all of New Zealand) and East Asia are all going to have a good show, too.