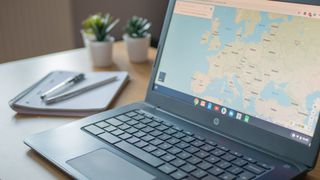 Learning how to set up Chromebook parental controls is crucial for your peace of mind. That's especially true now that Chromebooks are the go-to device in many classrooms and more time is being spent online in general.
Can you set up parental controls on Chromebook robust enough to keep your kids safe? Absolutely. It took Google an unusually long time to implement Chromebook parental controls, but it's certainly made up for lost time. The company implemented these parental controls as part of its Family Link system, an extension of its Android roots that lets you protect and monitor your kids' online presence and block anything you need to. 
When you set up Chromebook parental controls, you get some needed control over the last frontier that is the internet. And, it's just in time, as students prepare to go back to school and do in-person learning.
Setting up parental controls on a Chromebook involves a few steps, but we're going to help you through them all, from getting Family Link and setting it up to blocking certain websites and monitoring browsing. This way, you can ensure that your child stays safe online with their Chromebook without all the unnecessary headaches.
We're going to look at how you can get Family Link, how to set it up, block and allow web sites, apps and monitor their web browsing to ensure they can stay safe online with their Chromebook.
If you're thinking of buying a Chromebook, check out our guides to the best Chromebooks, the latest cheap Chromebook deals and best Chromebooks for students. 
The Google Family Link parental controls were only introduced right at the end of 2018 when version 71 of Chrome OS was released. You'll want to first check you're up-to-date and if not update your Chromebook. The fastest way to do that is type chrome://version in the address bar and read off the very top release number. 
otherwise, select Notification (bottom right area) > Settings (cog) > About Chrome OS and read the version number. It'd be unusual if your device was not a newer version, but if not check the Additional Details for scheduled update details and if a restart is required to activate a more recent update.
To be able to manage your child's account you'll need to add them to the Chromebook if you haven 't already. There's typically an 'Add person' button on the log-in screen that enables you to quickly add them there, but if this has been disabled, from within your account select Notification area > Settings > People > click your account > + Add account. 
You'll need their Google account email and password. Follow the process and you'll want to sign in and let the account set up.