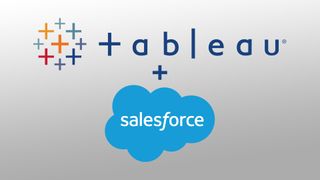 Salesforce provides a highly customizable, versatile total business software suite. Users have access to a choice of products for sales, service, marketing, and other business functions. Tableau is a brand of business analytics software owned by Salesforce, which is designed to be compatible with all of its software products. It is possible to use these programs together, but to do so you must first understand how to set up Salesforce with Tableau.
Follow these eight simple steps to connect these two powerful systems, and take advantage of the full power of Salesforce—one of the best CRM software solutions on the market—backed by Tableau's insightful business analytics.
Once Salesforce acquired Tableau in August 2019, Tableau became a native application in the Salesforce suite. As such, it comes with a built-in Salesforce connector that enables you to connect Tableau analytics to your Salesforce data quickly and easily. To take advantage of this functionality, you must first create a Salesforce account and install Tableau on the host workstation. 
Before you install Tableau, make sure that your machine matches all of the system requirements detailed in the before you install guide on Tableau's website. If your machine is up to the task, install Tableau by following the step-by-step installation instructions. Once Tableau is installed, it is time to create a Salesforce account.
Salesforce is a total business software solution with over 14 different products under its umbrella. To create an account, you will need to sign up for at least one of these products, such as Service Cloud, Sales Cloud, or Marketing Cloud. If you would like to learn more about Service Cloud, read our Service Cloud Review. 
Once you have selected your Salesforce products, you will be asked to set up an account with a username and password. Hold on to these, as you will need them to link Salesforce to your Tableau account.
APIs are programs that enable applications to access data in your Salesforce org. Going into detail about what an org is falls outside the scope of this guide, but consider it to be your ID in Salesforce—all of your Salesforce products and applications are linked to your "org number." If you want to connect Tableau to Salesforce, you will need to make sure that your company's org has the following APIs enabled:
If you are uncertain, liaise with your IT team or contact Salesforce support for assistance to ensure that the correct APIs are enabled.
Once you have enabled the correct APIs, launch Tableau. Navigate to More, under To a Server in the connect panel on the left. Then select Salesforce from the list that opens up. This will open a new browser window with a dialog box prompting you to enter your Salesforce username and password. Enter them to proceed.
The dialog box will now prompt you to allow Tableau to have access to your Salesforce account. Click "allow" to give Tableau the required access.