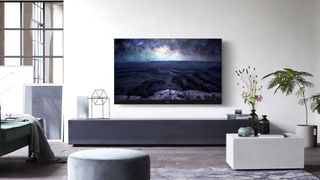 There isn't one right way to set up a TV. Everyone's home, tech room layout, and preferences are all very different. Not to mention all of the smaller factors, like wall positioning, lighting, and how your TV will fit with your furniture. 
What's more, there's often a shiny new 4K TV or high-tech feature announcement that shakes up the home cinema market. This means there's always something different to consider when it comes to setting up the perfect picture and the settings and features you'll need to know about to achieve it.
The good news is, as more and more TV display advances arrive, such as 4K Ultra HD resolution, HDR, and Wide Color Gamut, more of them also trickle down to the mass market. But, even though TV tech has never been better, it's still possible to buy the best and see the worst – or at least feel disappointed. That's why we're here to guide you through the process of setting up the best picture possible, whichever TV you have at home.
It might seem obvious, but to get the best from your TV you need to put the best into it.
This means you need to use high-resolution sources. For watching films and TV shows on disc, regular DVD players represent the bare minimum of what's acceptable, but if you're quality conscious, you should buy a decent Ultra HD Blu-ray player. At the very least you want to feed HD content from a Blu-ray player and HD set top box.
The amount of broadcast 4K content is currently minimal, but the world of gaming is storming ahead with 4K thanks to next-gen consoles like the Xbox Series X. There are now also plenty of 4K streaming devices like the Apple TV 4K and Amazon Fire TV Cube.
However, if you really want to invest in 4K content then you should consider one of the best TV streaming services, like Netflix, Amazon Prime Instant Video or Disney Plus, which have a huge amount of 4K HDR content available. 
Of course, once you have your kit, it's imperative that you use the right connections. We've probably all witnessed someone watching a Sky+ HD box through the SCART connection at some point over the years (hint, you're not going to get HD that way).
By and large, the only connection you should be using is HDMI, unless there's an overriding reason to opt for a legacy interface. Owners of older Panasonic TVs may still have a DisplayPort connection, which is used for connecting PCs and can deliver equally high-quality signals.
Source components and Blu-ray players usually have a variety of display options, but will typically manage themselves depending on the display they're partnered with – thanks to the EDID (Extended display identification data) info they encounter. You can manually intervene though if your combination results in some odd behaviour.