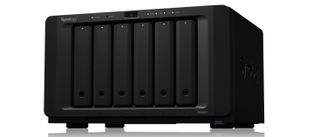 One of the most underestimated business resources that catches out most small and medium businesses is storage. Everything from its storage, and availability, to management and security, needs careful consideration. 
That's where Network Attached Storage (NAS) comes into play. Simply put, a NAS is a server that creates a centralized and shared storage data repository that's accessible over a network. 
While you can pick up NAS devices from storage vendors such as Western Digital, Seagate, QNAP, Synology, and others, with a little effort you can also assemble your own. Doing this not just gives you more bang for the buck, but also helps create a scalable system that can easily grow along with your requirements. 
OpenMediaVault (OMV) is one the best open source DIY NAS solutions available out there. The project targets home users and small businesses and besides servers, can also be installed on several Arm-based single board computers, such as the Raspberry Pi 4. 
Here's our hands-on tutorial for anyone who want to run OMV on top of a Raspberry Pi.
OMV is straightforward to rollout and simple to manage, thanks to its well designed browser-based user interface, which makes it suitable for even non-technical users. It supports all the popular deployment mechanisms, including several levels of software RAID, and you can access the data it holds using all the popular network protocols such as SSH, SMB/CIFS, FTP, Rsync, etc. 
The server also has an extensive permissions system to control access to the shared volumes and folders.
Before you get started with the software aspect, you'll first have to make sure you have the right hardware for your NAS server. OMV has rather modest requirements, and like we mentioned can even be run from SBCs. 
Of course, for an SMB with dozens of users accessing the data at the same time, you'll need something with a lot more processing power. We wouldn't recommend anything lower than a multi-core processor and 8GB of RAM. 
You'll also need multiple disks, and OMV supports traditional hard disks, as well as SSDs. You'll need one that's at least 4GB in size for OMV's installation, and several others for storage. Remember, you'll not be able to use the unused space on the installation drive for sharing files.