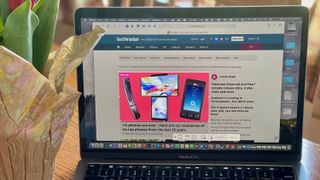 There will eventually come a time when you'll need to know how to take a screenshot on a Mac. You might need it now. But, trust us; even if all you're doing on your Apple laptop or Mac is streaming your favorite shows and video calling family and friends, this simple skill will come in handy someday.
Luckily, taking a screenshot on macOS Big Sur is an easy and seamless process. Better yet, it comes in various forms and options, from taking a screen capture of the entire screen to screen grabbing a portion of it or an open window. Taking a video recording of your screen is also possible using the same versatile tool. You can even annotate your screenshots before sharing them. 
So, let us show you exactly how to take a screenshot on a Mac. We'll show you exactly what makes the macOS' Screenshot tool tick and how to use it to your full advantage.
There are different ways to bring up the macOS Screenshot tool. On every Mac, you can press the 'Shift' + 'Command' + '5' keys or launch the Screenshot tool through Launchpad. On compatible MacBook Pro models, you can also use Touch Bar. 
There are five actions in the Screenshot tool. These actions include capturing the entire screen, capturing a window, or capturing a portion of the screen for screenshots. For video recording, the choices are to record the entire screen or recording a portion of the screen. 
To start a screenshot or screen recording: 
Click 'Options' on the Screenshot tool to bring up additional settings. The available options differ depending on whether you're taking a screenshot or a screen recording. Among the options are where to save the file and whether to add a timed delay. You can also add the ability to show mouse pointers or clicks in the screenshot or video recording.  
Additionally, when activated, the 'Show Floating Thumbnail' option temporarily floats a thumbnail of the completed screenshot or video clip at the bottom-right corner of the screen. You have a few seconds to drag this thumbnail into a document, mark it up, or share it. 
Thumbnail options include: 
You can also take a screenshot or record video using keyboard shortcuts in macOS Big Sur. These shortcuts are used instead of the point and click method noted above.