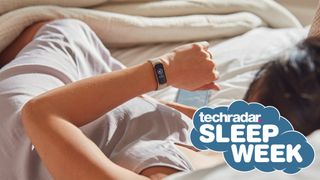 You might mainly use it for monitoring your heart rate and daily step count, but your Fitbit is also one of the best sleep trackers around. All Fitbits can track time spent asleep, restless, or awake, and (with the exception of the Fitbit Surge and Charge HR), every Fitbit with a heart rate monitor can track how long you're spending in each sleep stage (light, deep, and REM).
The Fitbit Charge 4, Charge 5, Luxe, Sense, Versa 2, and Versa 3 can also detect changes in blood oxygen saturation (SpO2) overnight. Your Fitbit isn't a medical device, and can't be used to make a diagnosis, but if your SpO2 drops particularly low overnight then it's worth having a conversation with your doctor, as it could be a sign of sleep apnea (a condition where you stop breathing briefly while you're asleep).
Your Fitbit will be set up to track your sleep by default, but to make sure everything is working as it should, open the settings menu on your device and check that heart rate monitoring is enabled.
Make sure your Fitbit is fastened snugly around your wrist so that the sensors make good contact with your skin (the device can't track sleep if it's worn on a pendant or clip). Once you've been still for about an hour, it will begin tracking.
Want to get some extra rest during the day? Your watch can also track naps that are at least an hour long, and they won't overwrite your nightly sleep logs.
Each morning, once your Fitbit has synced with your phone, you'll see a sleep score on the app's homepage. This is a rating out of 100, which reflects the quality of your sleep based on your heart rate, the time you spent asleep or restless, and (provided your Fitbit has been able to collect enough good quality data) your sleep stages. You can also see your sleep score on your Fitbit by swiping up from the clock face to see your daily stats. 
If you don't have a sleep score, it's because your device hasn't gathered enough high quality data. That might be because your watch was fastened too loosely, or because you were lying on your arm in a way that restricted blood flow.
If you have a Fitbit Premium account, you'll be able to see more details in your Health Metrics dashboard. This allows you to track long-term trends in your nightly breathing rate, heart rate variability, skin temperature, and oxygen saturation (as well as your resting heart rate during waking hours).
You can also see how your measurements compare to the averages for other people of your age and gender.
To track SpO2, you'll need to wear your Fitbit for at least one full day and night. If your watch has an SpO2 sensor but you can't see data in the morning, you might not have the necessary clock face installed. If you have a device in the Fitbit Ionic, Sense, or Versa series, tap the Today tab in the Fitbit app, tap your profile picture, then tap the image of your watch to select it. Tap 'Clock faces', then select the 'SpO2' category and choose a face to install.