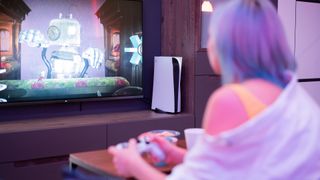 It's the update PS5 players have been waiting for: you can now upgrade the PlayStation 5 SSD internal storage. But you're going to have to jump through some hoops first.
Outlined on the PlayStation Blog, Sony has outlined the method for increasing the amount of space for games on the console. At present, the upgrade option is only open to those on PlayStation's Beta testing program, but the methodology is likely to stay the same for the imminent general release.
And it's a much-needed upgrade – while PS4 games can still be played from a HDD or regular external SSD on the PS5, games specifically built for the PlayStation 5 can currently only be stored on the console's high-speed internal storage. 
With the PS5 only coming with 667.2GB of usable space out of the box, and games like Call of Duty: Warzone requiring 200GB of installation space, that's quickly proving not enough. As such, getting a compatible M.2 SSD drive in the console has become a priority for many players.
But for a company that pioneered the plug-and-play ease of the PlayStation 1 Memory Card, it's a relatively complicated upgrade process on the PS5, especially compared to the Xbox Series X / S Storage Expansion Card method.
 Getting ready to upgrade PS5 storage? Here's what you need to know. 
First up, as previously mentioned, you'll currently need to be a PS5 beta software user to get access to the compatibility update – though we're expecting a general release relatively quickly now that the beta phase is under way.
Direct from the PlayStation website, these are the specifications you'll need for a compatible M.2 SSD:
If this is the first time you're using the M.2 SSD with your PS5 console, you'll need to format it when prompted. Just remember that formatting the SSD will delete any and all saved data on the drive, and any data deleted in this way can't be recovered. Ever. So make sure to safely export anything that's important to another device first.
Once your SSD is ready to be installed, you'll then have to open up your PS5.