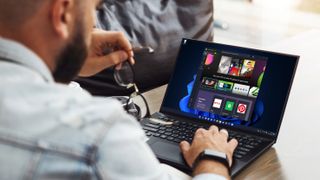 If you're looking to upgrade to Windows 11 without TPM 2.0, then we have good news and bad.
The good news is that it is possible to run Windows 11 on devices that don't support TPM 2.0, but the bad news is that Microsoft strongly advises against it. For the moment, Microsoft is still allowing PCs without TPM 2.0 to run Windows 11 using several workarounds, but there may come a time when the company puts its foot down and stops this ability all together.
Before we begin, this process is only for people who have a modern PC that doesn't support TPM 2.0 and therefore can't easily upgrade to Windows 11.
Check out our how to download and install Windows 11 guide for advice on checking if your PC is able to run Windows 11. If it can't because of TPM, then this guide is for you.
Make sure you check out our Windows 11 review as well, to find out if it's worth installing.
Before Windows 11 was announced, not many people really took notice of TPM, which is short for Trusted Platform Module.
It's a physical chip included in many modern PCs (or built into their processors) which is a "secure crypto-processor" that is designed to make your device more secure by preventing malicious software to be run.
It's quite a handy feature, and one that you shouldn't even know you need. However, Microsoft has insisted that Windows 11 can only run on devices with TPM 2.0. This has caused a lot of people with reasonably powerful and recent PCs to find that they cannot upgrade to Windows 11, despite the rest of their hardware meeting Windows 11's minimum system requirements.
While some people are able to enable TPM support via their BIOS, or even purchase a TPM module to install in their machine, there are ways to run Windows 11 without TPM support.
To install Windows 11 without TPM, head to the Windows 11 download page and click 'Download Now' under the 'Windows 11 Installation Assistant' section.