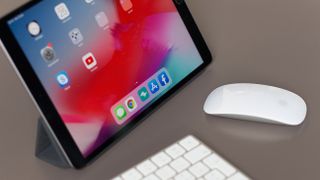 Apple's iPad has long taken pride in being many things to many people. It's a cinema screen, an ereader, and a work device, with plenty more utility depending on which apps you install.
For those of you who want a little more precision than your fingers allow on a touchscreen, who enjoy sitting back while using your iPad on a desk, or who require a pointer for accessibility reasons, iPadOS now supports mouse input.
While the capability was added to an earlier iteration of the system, it had been buried in the settings. The option is now ready for prime time – and it works brilliantly.
Here's how to connect your mouse to your iPad; these steps will work for external trackpads, too.
While you can connect non-Bluetooth mice to your iPad, doing so will require you to plug in the dongle. If you're using a mouse with a USB-C dongle on the latest iPads, that's not a huge issue (just note that you won't be able to use the port for other things simultaneously). 
But if your iPad has a lightning port, you'll need to find an adapter to convert it. Because of this inconvenience, we'd recommend Bluetooth mice, if possible, which are relatively inexpensive and easy to come by.
If you have a mouse with a dongle, you can connect it to your iPad just by plugging it in. 
As noted earlier, USB-A mice require a dongle for use with either a USB-C or Lightning port, depending on your iPad. USB-C mice will work on recent iPads without a dongle.
Once your dongle is plugged in, turn on your mouse and you should see the cursor appear on the screen. 
It may sound obvious, but always check that your Bluetooth mouse has power. You'll also need to put the mouse in pairing/discovery mode.