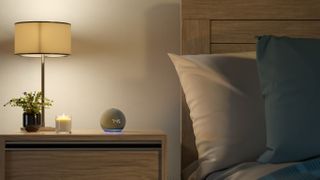 Amazon's Alexa can be extremely helpful when it comes to controlling the best smart home devices – by controlling several gadgets such as the best smart lights and the best smart plugs at the same time. 
Simply utter one command to your smart speaker or smart display, and your whole room will spring to life (or switch off depending upon the phrase you've used). 
I use Alexa to control the lights and my TV and soundbar in my living room, but Amazon's voice assistant's responses are loud, to say the least. 
Most of the time this isn't an issue, apart from first thing in the morning when my other half is still asleep when I start a workout.
Since the pandemic, I've taken to using a fitness streaming service in place of going to the gym. I often start at 6am but Alexa's booming voice has woken my other half on several occasions. However, with whisper mode this problem has become a thing of the past. Here's everything you need to know. 
Whisper Mode is a feature that enables Alexa to recognize commands when they are whispered rather than spoken at normal volume, and ensures Alexa responds in a similar whispered tone. 
It's available on Amazon Echo smart speakers, such as the Echo (4th generation) and the Echo Dot (4th generation), as well as Amazon smart displays including the new Amazon Echo Show 5 (2nd generation) and the Amazon Echo Show 8 (2nd generation). 
When we tried out Whisper Mode on the Amazon Echo Dot (2020), we were impressed at how quiet is actually is. With the volume set to 50%, Alexa's response normally measure 51db on our decibel meter, but with whisper mode turned on, this dropped to 40db. 
Alexa had no problems understanding our whispered commands, and similarly her hushed responses were still clear.
There are two ways to activate whisper mode on Amazon Echo devices. You can either say "Alexa, turn on Whisper Mode" or you can use the Alexa app.