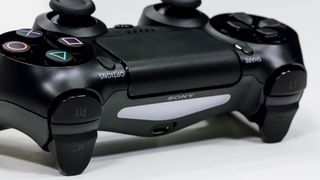 Did you know that you can use the PS4 DualShock 4 controller with a PC? Whether you're new to PC gaming or you've never used a controller to play PC games before, you'll quickly realize the benefits of using a PlayStation 4 controller when playing on your gaming PC.
There are many benefits to using a PS4 DualShock 4 controller. It's more intuitive than using a keyboard and mouse, but depending on the keyboard that you have, there's also less possibility of pressing the wrong keys.
Because a PS4 controller's design includes all the buttons that most controller-based PC titles require, it's also easy to switch over to the controller without having to think about it while gaming. What's more, you can lean back and relax while playing as it isn't a peripheral you'd need to anchor to your desk. 
Even the most devote of PC purists can't deny a controller's usefulness, especially when it comes to games that require quick responses and fast movements. 
Since figuring out how to connect a PS4 DualShock 4 controller to PC is a pain-free process – you just need the controller itself, a Windows or Mac PC, and an available USB port (or your computer's Bluetooth or a Sony PlayStation 4 DualShock USB Wireless Adaptor dongle, if you prefer to go wireless). Let us show you how it's done.
Note that a controller's audio jack isn't currently supported, so you'll have to either plug your headphones directly into your PC or use a pair of wireless headphones.
Steam, the popular storefront and game launcher, released an update that allows you to use the PS4 DualShock controller on your PC when running the application.
It's easy for you to plug in the Dualshock 4 controller and control your PC games. You can control the TV-friendly Big Picture Mode of Steam using the DualShock 4, and your games will now display PS4 button prompts in-game.
To use the PS4 DualShock controller on your PC in Steam, load up Steam and check for updates, then once the latest update has installed, plug in your DualShock 4 (or connect via Bluetooth) and you'll be good to go!
Unfortunately, this solution doesn't work very well for everyone, so to find out how to use a PS4 DualShock controller on your PC without using Steam, read on below.