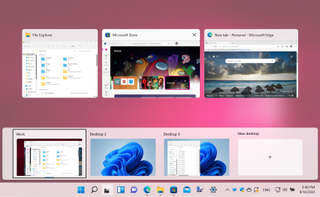 Adding an extra monitor to your computer is one of the best upgrades you can make to help improve productivity, but space (and financial) limitations mean that this is not something that everyone can consider. 
Microsoft introduced virtual desktops as an alternative to multiple monitors back in Windows 10, but with the release of Windows 11 the feature has been improved.
The idea is still the same. Rather than one desktop to house all of your running apps and open windows, you can set up several and switch between them as a required. 
Virtual desktops give you a handy way to keep work and personal things separate, or just reap the benefits of additional space. Here's how to get started.
There are various ways to access the virtual desktop feature of Window 11, and perhaps the easiest is to make use of the Task View button in the taskbar – this should appear next to the Start button and looks like two overlapping squares.
If you cannot see this button for some reason (you may have disabled it either accidentally or on purpose), you can get it back by right-clicking an empty section of the taskbar and selecting Taskbar settings. Flick the Task view toggle to the 'On' position and then close the Settings window.
To start using virtual desktops, hover your mouse over the 'Task View' button. Hovering the mouse cursor is sufficient; there is no need to click. 
After a very short pause, a pop-up will appear that shows a preview of virtual desktops. Even if you have not used the feature before, you will find that it is immediately available and ready to use – there is no initial configuration needed. 
To start with, you will see a single preview of the desktop you have been working with up until now, labelled Desktop 1, as well as a large button labelled New desktop.
Although we have just said that there is no need to click the 'Task View' button and that simply hovering is enough, you can click the button if you like.