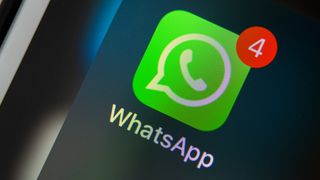 Using WhatsApp in dark mode changes the colors of the messaging app from white and green to more subtle shades of black and gray. This produces less glare at night, and makes WhatsApp more comfortable to use in low light conditions.
With upcoming phones such as the Pixel 6 and Pixel 6 Pro, alongside the rumored iPhone 13 coming soon, you want to make sure WhatsApp looks at its best on your new upgrade.
Darker screens also use less power (particularly if your device has an AMOLED display, as explained in the video below). Finally, it just looks cool, and makes a refreshing change from all-white interfaces.
WhatsApp has been busy in releasing features that its users have long requested, such as expired media, archived chats, and soon multi-device support. With small tweaks to its appearance, such as new chat bubbles coming soon, dark mode looks great on a device, and in a few simple steps, you can enable it on yours too.
WhatsApp dark mode has also arrived for Android users, and activating it is simple.
If you're using your phone's system-wide dark mode to change the color of all your apps, picking ;System default' will change WhatsApp's look to match.
Once you receive the latest update, activating WhatsApp dark mode is just as simple as it is on Android:
Again, you can also pick 'System default' to make WhatsApp adopt your phone's system-wide color scheme automatically.
WhatsApp is also getting a dark mode update for the desktop, as developer Mahesh B Wijerathna discovered while trawling through the CSS (cascading style sheet) for the website.
The desktop dark mode doesn't seem to be quite finished yet (emoji are on white rather that transparent backgrounds) but the palette matches that of the Android and iOS apps.