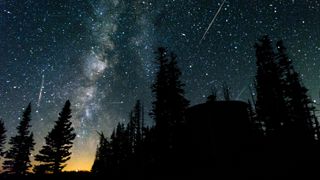 The Perseid meteor shower is one of the most impressive displays of shooting stars you'll see throughout the year – and it's peaking right now in the US (and soon in the UK).
The display of shooting stars, caused by Earth moving into the path of debris left by the Comet Swift-Tuttle, has been going since mid-July, but is peaking in the US this morning and will be doing the same in the UK during the early hours of August 13.
That's because the Earth is moving into the most intense part of the comet's stream and ice and rock, producing an impressive light show for stargazers and photographers. 
Even better, the Perseids are putting on a particularly good display this year for, because the moon is kindly setting early in the evening – which means blacker skies and far less light pollution for the shooting stars to contend with. 
The only potential obstacle is likely to be cloud and smoke, particularly in regions of the US, due to the recent wildfires. But some areas, including California, Texas and the East Coast are seeing good visibility, and there could be further opportunities (for both the US and UK) into the early hours of August 13.
Whether you're looking to watch, photograph or livestream the celestial event, here's everything you need to know about this year's Perseids meteor shower.
The Perseid meteor shower is peaking right now in the US, with the best time expected to be just before dawn (around 4am local time). 
According to NASA, you should be able to catch between 40-50 meteors per hour in most regions, assuming you're away from urban light pollution. That's not quite the 100 meteors per hour rate expected in east Europe, but still works out at one meteor every couple of minutes – well worth staying up for. 
The Perseid meteor shower takes place every year from around July 17 to August 24, but the early hours of August 12-13 are expected to be its peak this year, as you can see from NASA's graph below.
Stargazers in the UK and Europe could see an even higher rate of meteors – typically around one per minute if you're in a dark spot, but even as high as 100 per hour in the best spots.