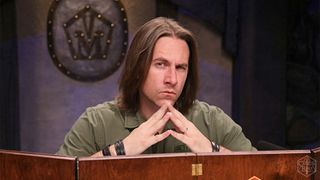 Critters, it's official: Critical Role is back. Though the second campaign came to a close on June 3, with the conclusion of the Mighty Nein's story, your regular fix of ragtag heroic adventure begins again on June 24 with a new Exandria Unlimited mini-campaign. 
Starring a new cast of characters with a guest Game Master, this eight episode mini-series is a completely fresh look at the world of Exandria, making it perfect for committed Critters and new adventurers alike to enjoy. Whether you're just getting started on your journey with the Critical Role gang or you're returning to get your weekly fix, our watch guide below explains how you can get in on the action. 
Set in a world created by veteran Game Master and prolific voice actor Matthew Mercer, Critical Role is a series of live-streamed RPG campaigns based on the 5th edition of Dungeons & Dragons – the pen-and-paper roleplaying game that's led the pack for the past 40 years with millions of players and fans worldwide.
Critical Role has been running in some form since 2015, and each episode consists of around 3-5 hours of table play, where the cast – all professional voice actors – solve dilemmas, get into sticky situations, and ultimately work towards creating bonds of friendship while defeating whatever big bad they end up facing.
Part improv performance, part collaborative storytelling, Critical Role is ideal for fans of roleplaying games looking for something new to add to their streaming and podcast schedules.
If you're here to watch the latest addition to the Critical Role universe, then Exandria Unlimited is what you're after. It takes place 6 years after the close of campaign two, so we wouldn't recommend starting it unless you're all caught up (or ready to watch some spoilers).
Beginning in the city of Emon (a familiar place to campaign one viewers), we'll join brand new characters and guest Game Master Aabria Iyengar – with usual GM Matthew Mercer at the table as a player instead – as they navigate their new team and wonder how on Exandria they got together in the first place.
Exandria Unlimited is a new story starting June 24 and running for eight episodes. It airs at the usual time of Thursday 7pm PT / 10pm ET / 3am BST live on Twitch and YouTube. 
On demand versions of Critical Role episodes release on their Twitch channel immediately after broadcast for subscribers ($4.99/£4.99 monthly), or on the following Monday on YouTube at around 12pm PT / 3pm ET / 8pm BST.
For the podcast lovers, episodes go live one week after airing on stream at the official website or on all major podcast platforms, including Spotify, Apple Podcasts Google Podcasts, and CastBox.