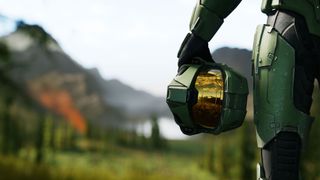 It's been a pretty good year for Xbox fans, and it may continue to be thanks to Gamescom 2021. The release of the Xbox Series X and Xbox Series S consoles has ushered Microsoft into the current generation, and the often criticized lack of exclusives is steadily being addressed with upcoming titles like Halo Infinite, Forza Horizon 5 and Psychonauts 2.
The Xbox Game Pass subscription service continues to lead the charge when it comes to one of the best deals in gaming, and with all current and future first-party games hitting the service on day one, Xbox provides a consumer friendly approach to trying out high-quality titles as soon as they're available for the cost of one monthly subscription.
So how about the future of Xbox? Gamescom 2021 is all but underway, and Xbox has prepared a 90-minute showcase that, according to its news post, will feature "in-depth updates from some of our previously announced Xbox Game Studios titles alongside some of our third-party partners, including some of the incredible titles coming to Xbox this holiday, upcoming releases to our monthly subscription service, Xbox Game Pass, and much more."
Read on to find out when and how you can tune in to the Gamescom 2021 Xbox Stream, as well as what to expect, and a few predictions from us.
The Gamescom 2021 Xbox Stream takes place on August 24 at 10am PT / 1pm ET 6pm BST / 7pm CEST.
This is just before Gamescom 2021 kicks off proper, with the Geoff Keighley-hosted Opening Night Live happening on August 25 at 11am PT / 2pm ET / 7pm BST / 8pm CEST.
The showcase is being streamed all over the internet on sites like YouTube, Twitch, Twitter and Facebook Gaming and will be available to watch in 30 different languages, with support for English audio descriptions and American sign language.
The Gamescom 2021 Xbox Stream will be streamed in 1080p 60fps, but note that a 4K version of the livestream will be made available to watch on Xbox's official YouTube channel after the fact.
As mentioned, the 90-minute Xbox showcase will largely shed more light on already announced titles from both first and third-party developers, some of which are releasing this Holiday season. As such, expect details on both Halo Infinite and Forza Horizon 5, both slated to release in that timeframe.
Xbox's news post also mentions the showcase will cover additions to the Xbox Game Pass service. This will of course cover any and all first-party titles, but we may see some new announcements of popular games coming to the subscription service soon.