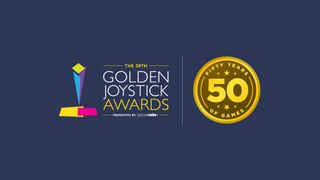 The 39th Golden Joystick Awards ceremony takes place today – and it's a pretty special year, celebrating 50 years of video games.
The Golden Joystick Awards 2020 livestream will be on Twitch, YouTube, Facebook and GamesRadar on November 23, kickign off at 21:30 GMT / 16:30 EST / 13:30 PST.
We've also embedded the stream below, so you can watch along right here:
This year's Golden Joystick Awards are hosted by Hollywood stars, Emily Rose and Nolan North, best known for working together as the lead actors on the Uncharted games series, Nathan Drake and Elena Fisher.
Plus, this year's proceedings will also feature '50 Years of Games' – a special musical performance from over 20 artists including multi-genre comedy band, The Chalkeaters and brass instrumentalist Trent Hamilton, featuring video gaming's most beloved soundtracks and including some surprise guests.
The good times – and tunes – don't stop there, either. OlliOlli World, the new skateboarding action-platformer, will reveal its soundtrack during this year's Golden Joystick Awards ahead of its launch this winter.
In addition, we'll also be seeing a number of exclusive game trailers and premieres – including a special look at sci-fi thriller The Invincible and a world premiere from open world survival horror game, Wronged Us.
Plus, SpecialGun Productions (known best for producing the Top Gear Gaming Show) are bringing a 50 Years of Games' exclusive pre-show documentary, featuring the most influential developers, games and hardware of the last half a century; including EA Founder Trip Hawkins, Doom co-creator John Romero and award-winning game designer Brenda Romero, plus a host of special guests.
Millions of public votes have been cast so far to determine the winners in 18 categories, including two special awards celebrating the half-century of gaming – the Ultimate Game of All Time and the Best Gaming Hardware of All Time.
Keep in mind, voting is now closed for the Golden Joystick Awards.