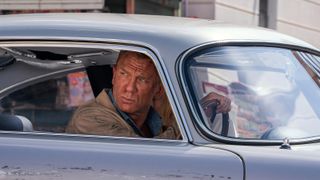 "The name's Bond. James Bond."
It's nearly six decades since Sean Connery first uttered those immortal words in Dr No, and 24 (official) movies and six actors later, the Bond series remains one of the most popular franchises in movie history.
But with all those missions to choose from, working out how to watch the James Bond movies in order isn't quite as simple as it might seem. Sure, you could view them in release date order, but what if you prefer the quippy charm of Roger Moore to Sean Connery's more rugged portrayal of a government assassin? What if Daniel Craig, the current incumbent of the famous role, is your definitive 007? And what if you'd rather skip the more disappointing entries in the franchise entirely – A View to a Kill and Die Another Day, we have you in our sights…
With the long-delayed 26th entry in the 007 series, No Time To Die, arriving in theaters on September 30 (UK)/October 8 (US), we've taken a tour through nearly 60 years of glamorous locales, femmes fatales and vodka martinis (shaken, not stirred, naturally) to explain how to watch the James Bond movies in order.
We've included the release date sequence, of course, but we've also ranked the films by IMDb rating, sorted by leading man, and even put 007's adventures into (something resembling) chronological order.
You have a licence to view.
Other movie franchises have nothing on 007 when it comes to longevity. 2021's long-awaited No Time To Die will be the 25th official James Bond movie (in other words, those produced by long-term rights holders Eon Productions), and there are two additional non-canon Bond movies: 1967 spoof Casino Royale, and Sean Connery's 1983 comeback Never Say Never Again (the latter released the same year as Octopussy). Due to some quibbles over rights, Never Say Never Again is effectively a remake of Thunderball.
Considering the Bond franchise has been running for close to 60 years, 007 has headlined surprisingly few bona fide classics. Ranking the 26 existing films based on IMDb user scores, however, it's no surprise to see Casino Royale, Daniel Craig's brilliant debut in the role, topping the table – closely followed by Goldfinger, arguably the film that established the gadget-heavy, over-the-top villain template that Bond would follow for years to come.
The upper end of the list is dominated by Sean Connery, with his first five outings in the tuxedo all sitting pretty in the top 10. Roger Moore is defiantly midtable, while Pierce Brosnan (always a reliable 007) sees three of his four appearances languishing in the bottom 10 – the fun GoldenEye (which shot the franchise back into theaters in spectacular style after a six-year absence) is the exception. It's also interesting to note that films called Casino Royale appear at opposite ends of the chart – though a title is pretty much the only thing the two Bond adventures have in common.
Like British TV stalwart Doctor Who, James Bond eras are defined by the actor playing him. This list would be identical to James Bond movies in release date order were it not for Sean Connery's two departures and subsequent returns to the role.