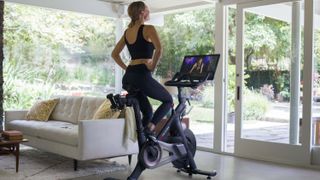 But is indoor cycling that good for you? That's a question many people have been asking themselves following the debut episode of Sex and the City spinoff series And Just Like That, in which the character Mr Big suffers a heart attack after an intense spin sessions and dies right by his bike.
Indoor cycling is certainly more relevant these days than ever before. With more people working remotely and a greater need to stay in the safety of home, exercise indoors has become a very important part of fitness and overall health – physical and mental.
The rise in popularity of indoor cycling will certainly attest to its uptake in recent years. Since services like Peloton (the company at the heart of the Mr Big storyline) and Zwift gamified home cycling by adding a big screen and the ability to ride with others, live, from all over the world, everything has changed.
As Wattbike's Adam Daniel points out: "The research suggests that riding indoors for one hour is the equivalent to riding outdoors for 90 minutes with regards to energy expenditure (if the intensity is similar)".
Now exercising in the home doesn't have to mean going into that pain cave alone. It also, crucially, doesn't mean you have to push yourself, but rather simply need the will to turn up and stay on the bike – and a trainer will take care of the rest.
The big question, if you have decided to go for an indoor cycling bike, is which is the best for you? The big two categories to start narrowing it down from are fixed exercise bikes or turbo trainers that attach to a road-going bike. Then indoor bikes break down into upright, recumbent, studio spin and smart bikes. 
The advantage of the turbo combo is pretty clear – you get a real world bike for cycling out and about when the weather is nice, and an indoor system for when you feel like churning out the miles in front of Netflix. A fixed indoor bike, on the other hand, takes away that choice, keeping you indoors even on sunny days. 
We'd like to say the price reflects this obvious difference but it really doesn't. A top end indoor Peloton bike will set you back a few thousand just the same as a decent road bike combined with a top-end turbo trainer will. Of course in both cases there are more affordable alternatives. 
One study did find that indoor cycling was actually more beneficial for health than regular outdoor bicycling. But of course, this is based on an intense spinning class, which isn't always what indoor cycling will lead to after a long day.
A top-end turbo trainer, which requires you to remove your bike's back wheel, means you're directly driving a flywheel to get resistance. A cheaper option will just clip to your tire and work like a glorified brake. The reason the flywheel system is better is that it will offer great degrees of control on resistance, making it feel more like a real ride. These are usually digitally smart too, meaning they can link to a screen and adjust the ride to suit what you're seeing – creating the feel of a real hill and even the incline as you see it on screen.