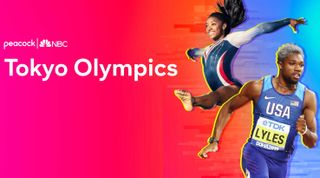 After a five year wait, none of us want to miss a second of the upcoming 2020 Olympics in Tokyo. The 13 hour time difference between Japan and US Eastern time may mean most events are happening overnight here in the States, but there is a solution. Peacock TV is providing free streaming of some action from the Tokyo 2020 Olympics so you can watch all the highlights without losing sleep. 
Peacock TV is NBCNational's own streaming service that is going to allow those in America without cable to watch the action from Tokyo. Whether it is Caeleb Dressel in the pool, Trayvon Bromell on the track or Simone Biles on the bars, Peacock TV will cover the highlights from the 33 sports at this year's Olympics. 
Keep reading to find out how to get the most out of Peacock TV and the different subscription plans it has to offer. As well as information on how to watch the coverage using a VPN service if you're going to be abroad.
Owners of Peacock TV, NBC, have the rights to all Olympic coverage in America. So it seemed only right that they offered viewers without cable an alternative way to watch. However, don't be fooled. NBC aren't just going to give you all of the same Olympic coverage for free on Peacock TV, so there are some caveats. 
Peacock TV is showing live coverage every morning, daily recaps and in depth Olympic documentaries for the 17 day duration of the 2020 Olympics. The best part? It is all FREE when you sign up for Peacock TV. The streaming service has a number of channels that the coverage will be spread across, each of which will be explained on this page.
Now for the not so good part. Despite the multiple Olympic channels on offer, Peacock TV is only showing early-morning live coverage of gymnastics and track and field, as well as the Team USA men's basketball if you have paid for Peacock Premium. Keep reading to find out exactly what Peacock TV has to offer and other options for streaming the 2020 Olympics.
The Tokyo NOW channel will keep you up to date with the Olympic action. The channel has a standardised daily schedule throughout the games that will offer you a bit of everything:
– Tokyo Live 6-11am ET – live action from the games
– Tokyo Gold 11am-12pm ET – daily round up of highlights and must-see moments from the day (repeated hourly until 7pm or 6pm on Sundays). 
– On Her Turf at the Olympics 7-7.30pm ET (or 6-6.30pm on Sundays) – Lindsay Czarnial, MJ Acosta-Ruiz and Lolo Jones discuss the top female performances.