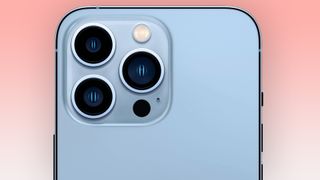 Macro photography is where you get very close to your subject in order to reveal levels of detail not typically appreciable with the naked eye. 
The capillaries of leaves, the martian-looking surface of fungus and the furze of a spider's abdomen are all subjects you might try to capture. But how do you take such highly detailed photos with your phone?
We'll cover that for iPhone and Android phone owners, as well as offer tips for getting macro-like results even if your phone doesn't have a macro camera or macro mode. 
The latest iPhone 13 Pro and iPhone 13 Pro Max have a macro mode that automatically engages when you get close enough to a subject. The phone switches to its ultra-wide camera because its lens is able to focus on subjects closer than the main camera can.
Its minimum focus distance is 2cm. For best results, you want to get close to this kind of proximity, although that is naturally going to be easier for static subjects. It takes a bold photographer to get 2cm from a wasp.
As is so often the case, Apple makes things easy. Apple has also added a way to turn this auto-switch feature on and off in the camera's Settings menu. 
Other iPhones don't have a dedicated macro mode but you can still take good macro shots with them. We'll cover some crucial tips for this later on.
Many Android handsets have dedicated macro cameras. You typically access them in one of two ways. There may be a line of controls next to the shutter button that switches between the lenses. The macro one is typically identified by a flower symbol because that's one of the classic subjects for macro photography. 
If you don't see it there you should find a macro mode in a settings menu. This may be part of the mode selection screen, usually accessed to the right of the shutter button. Or the general settings menu, which typically sits on the left side of the camera app. 
All phone makers use their own cameras apps, which is why we can't be entirely specific about this part.